Petrified Wood Stool-16"h- Rare Ivory Ring/Black Core Side Table by Aire
Dimensions:15" Depth
12" Width
16" Height
A black center and white periphery petrified woodblock is quite rare to find. This pristine block of wood has been carefully extracted from the mother lode of teak which lived about 20 million years ago in the equatorial regions of Java forests. The black center shows the tissue structure captured in the stone as the organic matter was replaced by the minerals in the soil. The fines details are preserved for all eternity. The thin white and tan circumference shows that the outer ring of white silica and tan silica dioxide. This piece is a sure conversation stealer wherever it is placed.
SKU:
PF-2125
Dimensions:
Height from ground: 16" (40cm) 
Width of the top: 12" (30cm) 
Length of the top: 15" (39cm)
Weight:
152 LBS / 69 Kg
Age:
40+ million years old
Origin:
3.5833° N, 98.6667° E Sumatera Utara, Indonesia
Minerals Present:
Silica Oxide Quartz, Hydrated Iron Oxide, Carbon, Manganese
Great for Use as:
Accent stool, side table, grouped as a coffee table, pedestal, display unit, entryway pedestal
Longevity:
20+ million years
Vintage
Table top
Slab
Polished
Petrified Wood
Natural
MATERIAL_Petrified Wood
Interior Decor
Home and Living
Handmade
Fossil
Black
Coffee table
Art & Collectibles
---
Have Questions?
We're here to help!
Chat Now
About Vendor
Aire has the largest collection of petrified wood and resin infused teak wood furniture in the USA, sourced from Brazil to Indonesia. Nature's Art, Our designs.
---
Hello. Can the petrified wood side tables be used in a shower? Thanks, Mike

HI MIke - Thank you for shopping at Airefurniture. Yes the petrified wood table can be kept in a shower . These are million year old wood fossil so it does not change much . Only thing which may happen is the polish we put on the top may diminish but otherwise these can be kept anywhere
---
About Petrified Wood
Petrified wood literally means " wood turned into stone" . Fossilised wood is created by nature when trees are completely buried under mud sediments or volcanic ash for millions of years and the organic matter petrifies into extremely hard stone or quartz crystals. The original structure of the wood in all its detail, including tree rings, grains, crevices, cracks, gaps, knots and cells is preserved in the petrified wood. The quartz/stone takes on color from the various minerals present in the mud like black from carbon, green and blue from cobalt, chromium and red from copper.
Petrified wood is extremely rare and is found only in few places in the world. Every piece of wood is harvested safely from protected petrified forests. No two pieces of petrified wood, even from the same tree, can be identical. The appearance of the petrified wood depends on the minerals found in the particular forest.
At Aire, we source petrified wood from the pristine tropical jungles of Java and Indonesia, from the forests of Ecuador and Brazil and green dense forests of Canada. The petrified wood is obtained in blocks and slabs and attempt is made to keep it in its natural state as far as possible.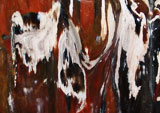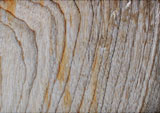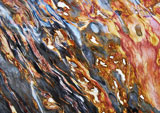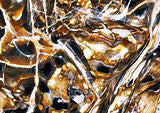 '
Vintage
Table top
Slab
Polished
Petrified Wood
Natural
MATERIAL_Petrified Wood
Interior Decor
Home and Living
Handmade
Fossil
Black
Coffee table
Art & Collectibles